Professional tree surgeon Wilmslow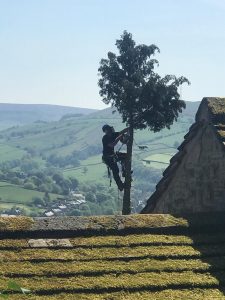 Welcome to our site. We are one of the longest serving tree surgeons in Wilmslow having been established in 1976. We have always prided ourselves on offering a tree surgeon service of the highest quality to our customers. Whenever we undertake any tree work, our focus is always on leaving satisfied customers and healthy natural looking trees for our customers. 
If you are interested in having some tree work done why not phone us on 0161 427 5813 to discuss your requirements with us. No matter what size of job you need doing we are more than happy to help you get your trees and hedges in good order so you can get on with enjoying your garden. 
If You Would Like to Get in Touch Please

When picking a Wilmslow tree surgeon, it is always important to choose professional and qualified people. Here at North Cheshire forestry, we only employ qualified and experienced staff on our tree surgeon teams. Employing fully trained NPTC staff allows us to offer a truly professional Wilmslow tree service, and helps us encourage repeat customers and referrals for our business. We are also members of various trade bodies, helping us keep up to date with changing standards and best industry practices. 
We are also a fully insured Stockport tree surgeon with up to 5 million pounds of public liability insurance, offering complete peace of mind our customers. 
 Wilmslow Tree Removal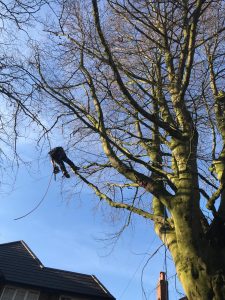 If you have a tree you need removing, we are expert in all types of tree removal. There are many good reasons to remove a tree from your garden, perhaps it is dead or dying, perhaps it is blocking out much needed light or causing an obstruction in some way. Whatever reason you have to wish for our tree removal service, we would be happy to help you get the garden you deserve. 
Tree removal is often complicated by a lack of space or proximity of sheds and greenhouses. We will make best use of the space available, employing ropes and other rigging devices to safely remove branches without issue. If you would like to know more about this service please feel free to mention it when receiving your free estimate. 
T
ree pruning
We provide a high-class tree pruning service. Whether you need your tree crown thinned, crown lifted, reduced or reshaped we are ready to help your trees keep a healthy natural looking shape. Tree pruning is not just to give the tree a better shape however, it can used to improve tree stability, reduce wing resistance, gain more light into the garden and improve tree safety. 
 Some mature trees may gain large numbers of dead branches that create a possible hazard to people going underneath the tree. In that case it is advisable to have all the big pieces of dead wood removed from your tree. This dead wooding service will give you peace of mind to enjoy your garden safely with your family. 
Hedge Trimming
We are a tree surgeon Wilmslow who provide a bespoke hedge trimming service. whether you need you hedges maintaining to a professional standard, a correction to hedges that have gotten out of control or complete hedge removal, we offer the service you are looking for. Ehen removing hedges you have the option to have them removed to ground level or have the stumps ground out (more info below) and we also offer a planting service if you would like to leave something in place of the removed hedge. 
Stump grinding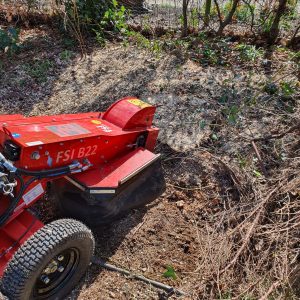 We provide a full professional stump grinding service. If you have trees you wish to have removed but do not want to be left with stumps, we can remove the stumps at the same time. Perhaps you want to replant, use the space for something else or are concerned about honey fungus. Whatever the reason we can remove the stump completely leaving you with a reusable space. We also offer a planting service for those people who want to replace dead and dying trees. 
If you would like to have some tree work done why not get in touch today for free estimates and advice. Call us on 01614275813 and our staff will be happy to arrange for a free quote. Or alternatively you can use the contact for provided to get in touch and someone will get back to you as soon as possible. 
Thank for visiting our tree surgeon Wilmslow site we hope you have a pleasant day.